What separates the masters from the novices in the world of jewelry design isn't simply skill or experience. In fact, it's seemingly metaphysical: a feeling of oneness with the Earth; an intuitive grasp of how a particular stone will harmonize with a special strip of metal; and the gifts and blessings the piece will ultimately impart upon the wearer.
We've gathered information on five of the top Native American artists working in jewelry design and creation today. No two artists are the same, just as the pieces they create are fundamentally different in texture, design, color, and feeling.
TOMMY JACKSON
Talented, nationally-known Navajo jewelry designer Tommy Jackson is from Chinle, Arizona. Tommy learned the art of silversmithing from his parents, Martha and Gene Jackson. Tommy merges traditional Navajo designs with modern-day aesthetics in his turquoise jewelry. His use of turquoise - deep, richly hued stones, sometimes with unusual matrix - are as noteworthy as his sterling silver or gold mounts, embellishments, and detailwork.
Tommy comes from a long line of silversmiths. He began making plain silver rings at six years old; at seven, he became a buffer, erasing minute imperfections in the silver, which ultimately lay a foundation for commitment and perfectionism. Mr. Jackson's designs are considered museum/gallery quality; his comment, €œMy name is going on each piece and it has to be perfect'' illustrates his drive and determination.
Tommy is guided by his dedication to his work and his enduring religious faith, imparting a bit of both into his unique and compelling jewelry.
SYLVANA APACHE + RANDY SECATERO
This husband and wife team live in Tohajiilee, New Mexico. She is Navajo and Mescalero Apache; he's a member of the Navajo tribe from Canoncito, New Mexico. Their sublime work is notable not only for the spectacular designs and stampwork in their combined copper with sterling silver overlay jewelry (Sylvana collects vintage Navajo stamping tools) but also for the heft of their pieces. Men like the wide, heavy cuffs; women covet the intricate designs and warm glow of their work in rings and bracelets. The couple is also known for creating extraordinary traditional sterling silver pieces and contemporary, vibrant inlay jewelry, utilizing turquoise along with other quality stones. Randy is known to declare that he'll continue to do his silversmithing as along as his eyes and his hands hold out.
E.M. TELLER
Everett and Mary Teller are self-taught silversmiths, designing and creating impeccable jewelry for over twenty years. Using an array of hand selected natural stones such as turquoise, coral and onyx€"in addition to spiny oyster and lapis lazuli€"they create dynamic jewelry utilizing clean and quiet sterling silver and feature traditional Navajo and Southwest imagery and symbolism in their overlay pieces. Their work has been shown at the Heard Museum and Santa Fe Indian Markets; their jewelry designs are found in assorted galleries devoted to fine turquoise jewelry. Mary enjoys designing new work and some of her latest pieces€"large ovals of turquoise with delicate matrix in oversized bracelets, sweeping wings of sterling overlay in a drop-dead-gorgeous necklace€"literally stop people in their tracks.
RONNIE WILLIE
This Navajo father of four from Albuquerque, New Mexico is a true Renaissance man, working in wood (kachinas), rock (sculpture), and metal. Mr. Willie is perhaps best known for his sterling silver jewelry, done in the repousse style, in which metalwork is hammered into relief from the reverse side. This is intricate and intensive work; the end result has a consistent, methodical, and disciplined appearance, though it can be warmly organic as well. Yet another Willie signature design are rings, earrings, and bracelets which feature lustrous sterling silver 'beads' and square cross overlays on an oxidized (darker) sterling silver base. With bezel-set coral, lapis lazuli, or Sleeping Beauty turquoise added, the tactile 3-D effect is irresistible. Over the years, Ronnie Willie jewelry has become revered and in demand due to its identifiable look and amazing attention to detail.
ANDY MARION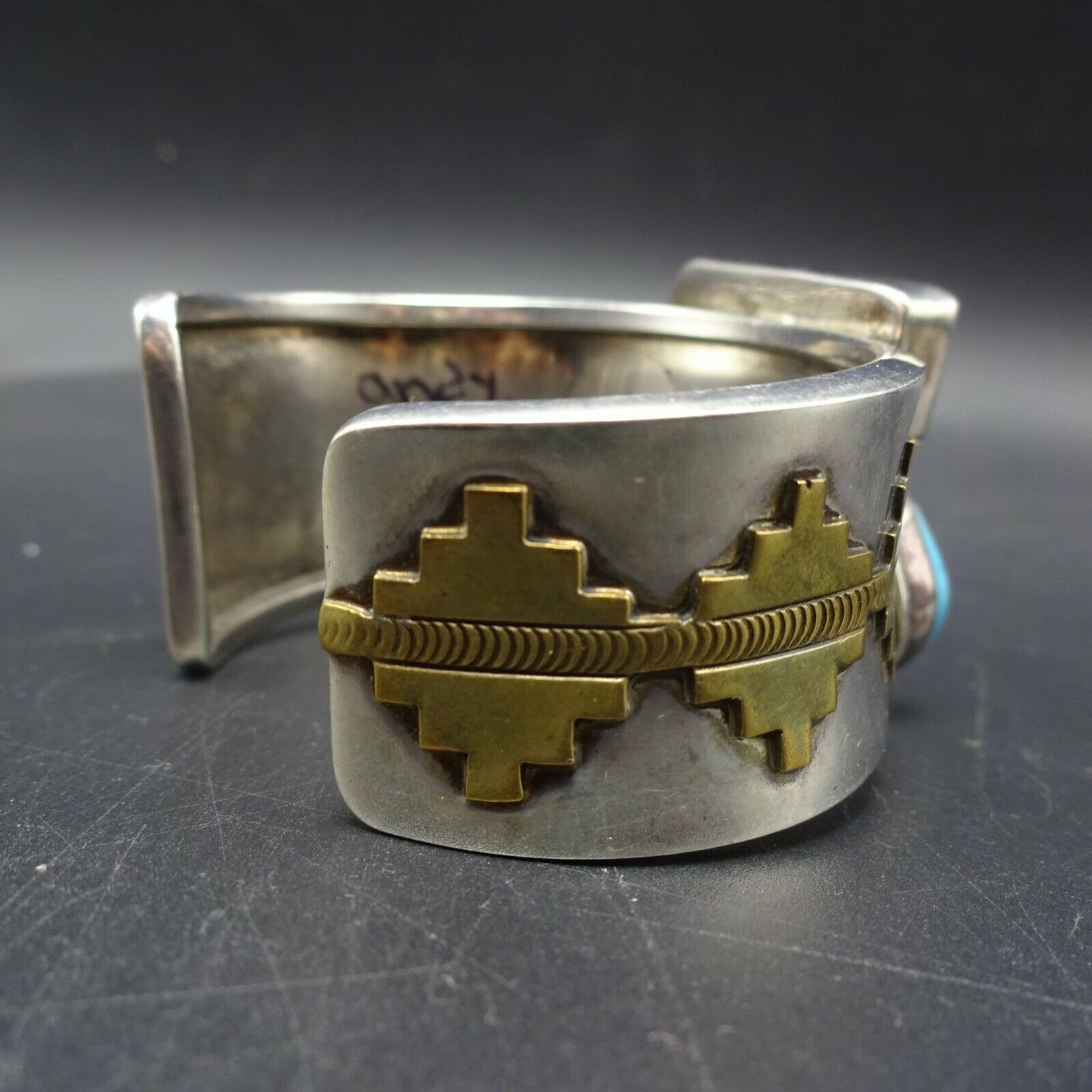 Internationally known Navajo silversmith Andy Marion creates one-of-a-kind jewelry worn by celebrities and those who appreciate wearable fine art. Whether working in sterling silver, gold, brass, or copper, his ability to translate raw material into the divine is obvious at first glance. The son of a silversmith, he began working in the medium at nine years old; solid workmanship and an amazing attention to detail in the creation of both traditional and contemporary jewelry are the result of his years on the bench.
One of Andy's signatures is his unusual approach to the finished edges at the base of his cuff bracelets. Each end of the piece at the gap (the area where the bracelet meets under the wrist) are of differing widths. His work also features multiple layers which lend an extraordinary three-dimensional look; his translation of various animal forms are both forthright and whimsical, and the sight of a resting dragonfly or ambling bear, coupled with quality stones, keeps people in awe.
You can find jewelry by these artists and by many more Native American designers at the Pickle Barrel Trading Post, a family owned and operated business since 2003! Located in Globe, Arizona and known for a diverse selection of Southwest gift items and exquisite Native American art and jewelry, their carefully curated collection of turquoise jewelry is constantly changing, with new pieces arriving daily. Regarded as experts in their field, the Pickle Barrel staff considers it a pleasure to assist those with questions concerning the world of Native American jewelry.
By: Pickle Barrel Trading Post
Photos by: Jim Lindstrom/Joseph Bedore-Sneed