Here in Arizona, turquoise is a familiar and ubiquitous sight; you'll see this clean and serene color on beaded necklaces worn by women shopping the Farmers Market in Apache Junction; large, ornately set stones in outrageous belt buckles worn by rodeo cowboys in Prescott Valley; even the golden arches of the McDonald's restaurant (normally a mustard yellow) are a bright and noticeable turquoise blue at the franchise located in Sedona, AZ.
Turquoise is a symbol of the great desert Southwest and it maintains a significant, long lasting cultural importance in Native American communities. Many of the words used for turquoise in Native American languages translate as the 'sky stone' in English. Turquoise is believed to offer positive healing energy, to assist in communication, expression, mental functions, and protection. The stone is used in prayer to connect with the Creator, in coming of age ceremonies, and in healing. The Apache people believed the stone held the power of the sea and sky which offered guidance to hunters and warriors; the Navajo used turquoise in their rain ceremony by offering the stone to a river or stream.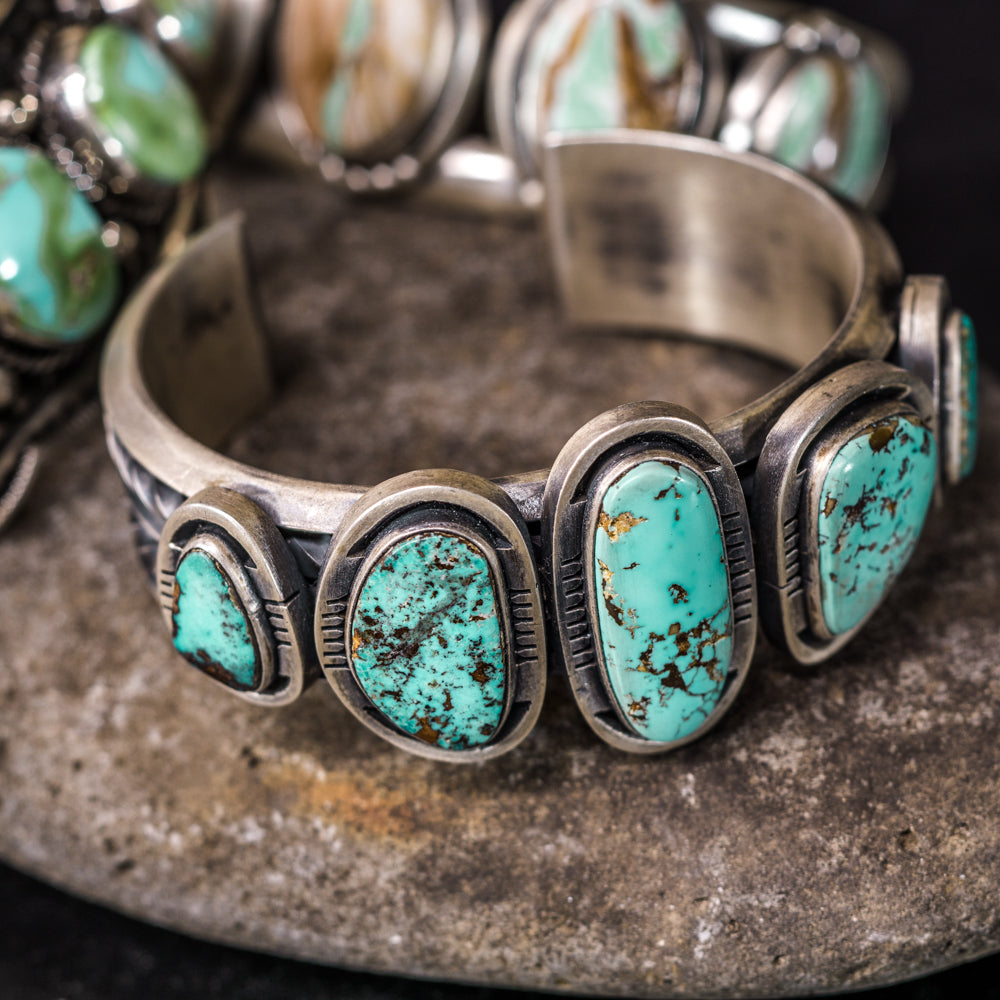 The Aztecs, Persians, and Egyptians celebrated turquoise as the birthstone of December (zodiac sign, Sagittarius). The stone is thought to assist in the effective energy conduction by the ruling planet Jupiter in the life of the wearer, rendering a positive impact.
Turquoise is purported to possess a calming, refreshing energy; it imparts upon the wearer a measure of wisdom, serenity, and wholeness. Creativity, patience and tranquility arrive; intuition and spiritual awareness follow. Happiness is said to be the direct benefit of wearing the stone, which can produce a calmer state leading to greater self-realization and satisfaction.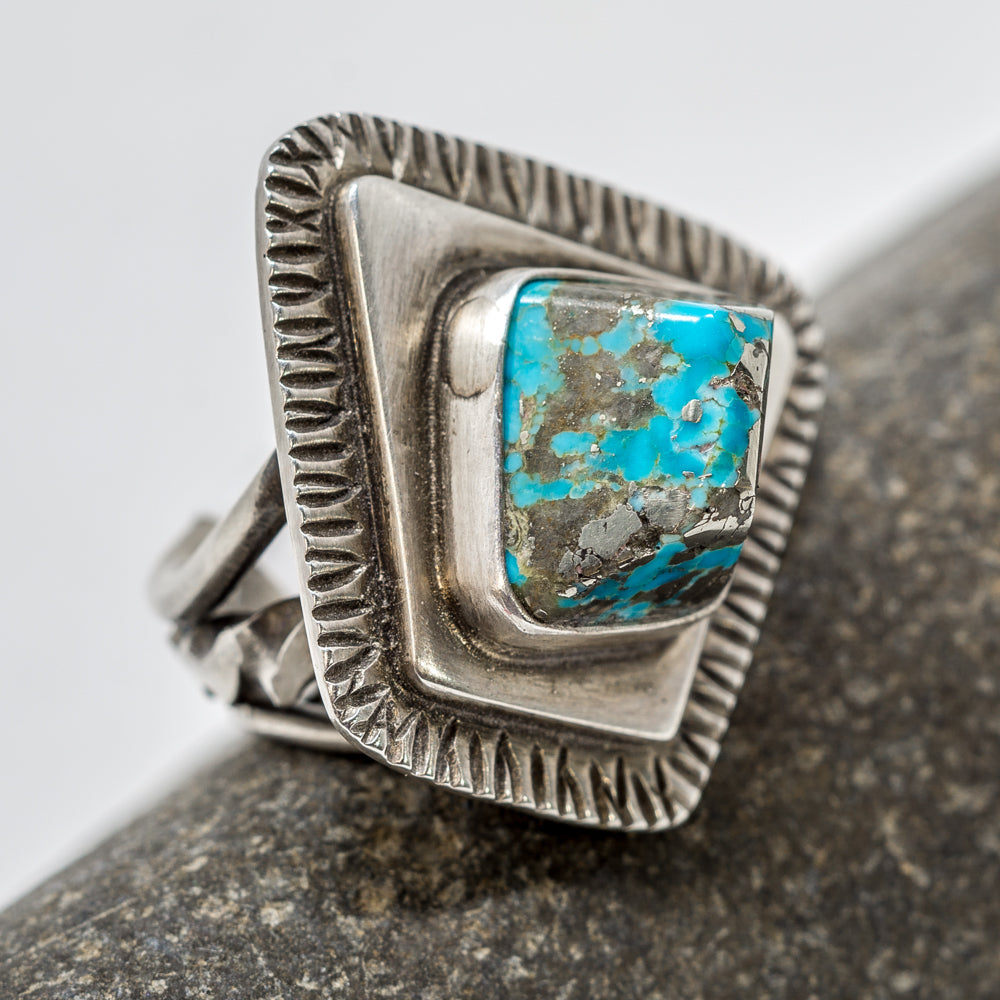 The popularity of turquoise jewelry exploded in the early twentieth century with the growth of the railroad; tourists who visited the far flung West bought jewelry and trinkets from Native American vendors at whistlestops on their journeys. Turquoise jewelry has been celebrated in every decade since then; thanks to current celebrities such as Cher, Sofia Vergara, Beyonce, Tom Ford, Jennifer Lawrence, and Johnny Depp, the trend continues.
Turquoise is created as water reacts with copper deposits in the home element of the surrounding rock. It's often recovered as a byproduct of large-scale copper mining operations, especially in the United States. Each geographical scenario creates varieties in the color, texture, and appearances of the gemstone. Sleeping Beauty turquoise from Arizona, for example, is prized for its often matrix-free, robin's egg blue color, and is a favorite in jewelry pieces where multiple stones demand uniformity. On the other hand, the finest natural spiderweb turquoise (and the most costly) in Lander Blue turquoise from Nevada, with its rich blue and black colorations. The Kingman turquoise mine in Arizona is one of the oldest and largest mines in the world and was mined by Native American tribes dating back over a thousand years. Its brilliant hue and subtle veining make it a popular choice.
Natural turquoise is always preferable to stabilized or imitation turquoise and will last the test of time; of the turquoise on the market today, it's estimated that 90% has been stabilized or enhanced. Lower grade natural turquoise needs to be stabilized for color and hardness and has less value, obviously, than turquoise in its natural state. Stabilized turquoise is subjected to a pressure process which, with the addition of plastic fillers or epoxy, creates a stone which can be cut and polished without damage, as lower grade turquoise is soft and porous without stabilization. Stabilized turquoise isn't a fake stone; the process is called for with lower grade turquoise to make it hard enough to be cut and shaped.  Quality natural turquoise, on the other hand, is dense enough to be cut and shaped without affecting the quality or integrity of the stone. An interesting fact of older stones: the color of natural turquoise can change slightly, becoming deeper over a period of time; one cause for this are the oils in our skin.
Block turquoise, conversely, is comprised of turquoise dust and pieces which are blended with epoxy and formed into units. Other 'turquoise' can actually be comprised of resins and plastics. Finally, there's a common imitation turquoise in rock form, which is dyed Howlite or Magnesite.
When purchasing turquoise jewelry, knowing a reputable dealer- someone who specializes in turquoise and has a reputation for trust and knowledge- can guide you through the process. A reputable dealer will welcome your questions and be happy to share all pertinent information on the pieces you've chosen. A side benefit will be the ancillary facts you'll pick up regarding related elements in Southwest jewelry; spiny oyster and mother of pearl shells, heishi beads, and various silver stamping patterns of different Native American silversmiths.
Finally, in today's mashup of fashion's trends, turquoise works with anything and everything. After all, classic styling is forever. Turquoise has been elevated to its own level, where it's attained the same status as, and sometimes supersedes, diamonds and pearls.
Stop by the Pickle Barrel Trading Post in Globe, Arizona, for an overview of curated turquoise and sterling silver jewelry. Globe is home to the Sleeping Beauty turquoise mine, which produced the most desirable stones known to designers and collectors alike.
Photographs by James Lindstrom